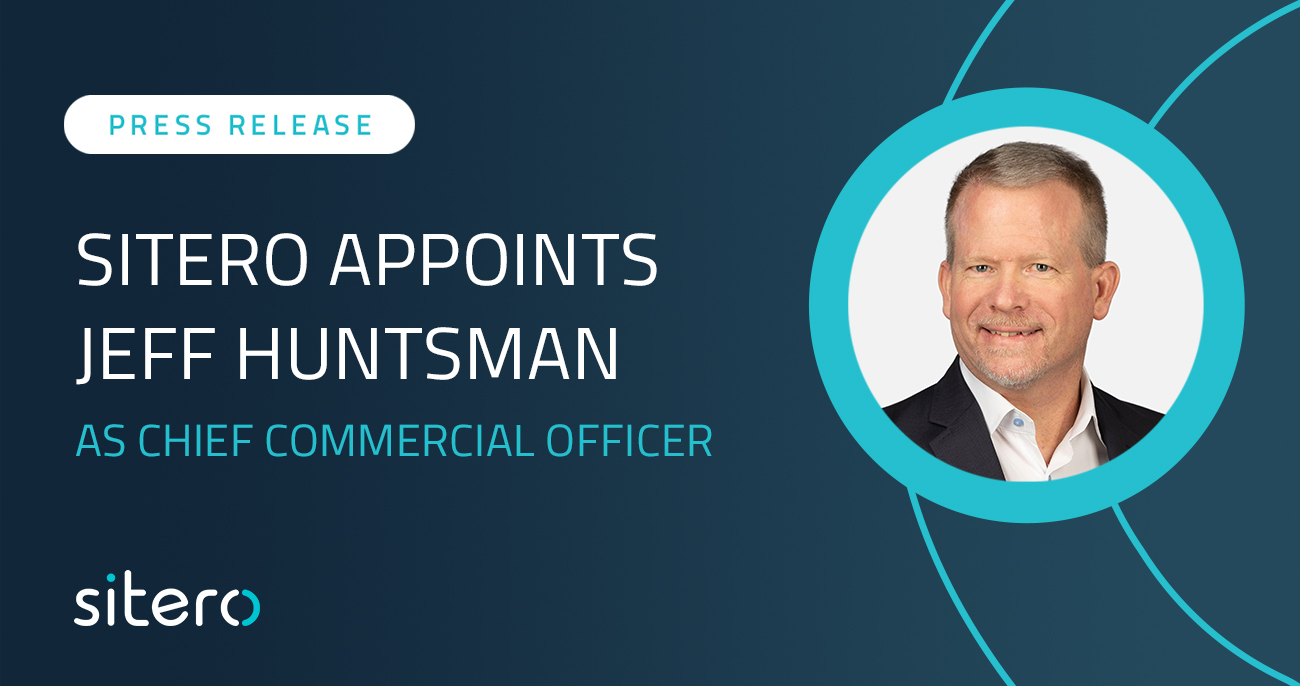 Sitero Appoints Jeff Huntsman as Chief Commercial Officer
Miami, FL – March 2nd, 2023 (PRNewswire.com) – Sitero is pleased to announce the addition of Jeff Huntsman to its growing leadership team as Chief Commercial Officer. Jeff brings over 30 years of experience in commercial planning, global business development, and scaling organizations in the healthcare and life sciences industry.
This adds to the recent investment Sitero is making to continue its rapid growth and meet its goal of becoming the leading technology enabled CRO in the industry. As Chief Commercial Officer, Jeff will be leading our global commercial organization and will be responsible for the sales and go to market strategies across the portfolio of Sitero's technologies and services.
"We are extremely excited to welcome Jeff to the Sitero team" said Sankesh Abbhi, CEO of Sitero. "Jeff's expertise in strategy, business development, commercialization, and go-to-market strategies is exactly what we need to continue to scale Sitero and meet our growth goals" continued Sankesh.
Most recently Jeff was an Advisor for a Healthcare Private Equity, Warburg Pincus, where he helped carve out the Pharma Intelligence business of Informa, PLC, and ultimately rebrand as Citeline in June of 2022. He was placed as the interim Chief Commercial Officer to aid in the creation of the Citeline business, which led to the eventual merger with Norstella. Jeff was also the President at J-Boys Consulting where he provided strategic advice to biopharmaceutical, CRO, and investment companies.
Prior to this, Jeff served in Executive Commercial leadership roles at Clarivate Analytics, ConnectiveRx, and Parexel. Earlier in his career, Jeff also held leadership roles at Liquent, Thomson Reuters, and Rogers Medical Intelligence Solutions and started his career at Stuart Pharmaceuticals (Astra Zeneca).
Sitero is a leader in clinical services and solutions for the life sciences industry. The company has over 100 customers with experience in a diverse range of therapeutic areas and specific expertise in providing innovative, technology-enabled solutions that allow its customers to focus on their core strengths. For early phase studies through Phase III clinical trials, Sitero's seasoned team delivers high-touch services and technology to ensure the safety of all stakeholders across the clinical research community with an emphasis on ethics, compliance, and innovation
Sitero announces a new Biosafety service offering for clinical and research sites to support their Biosafety compliance management. The services will be led by Dr. Sarah Ziegler.