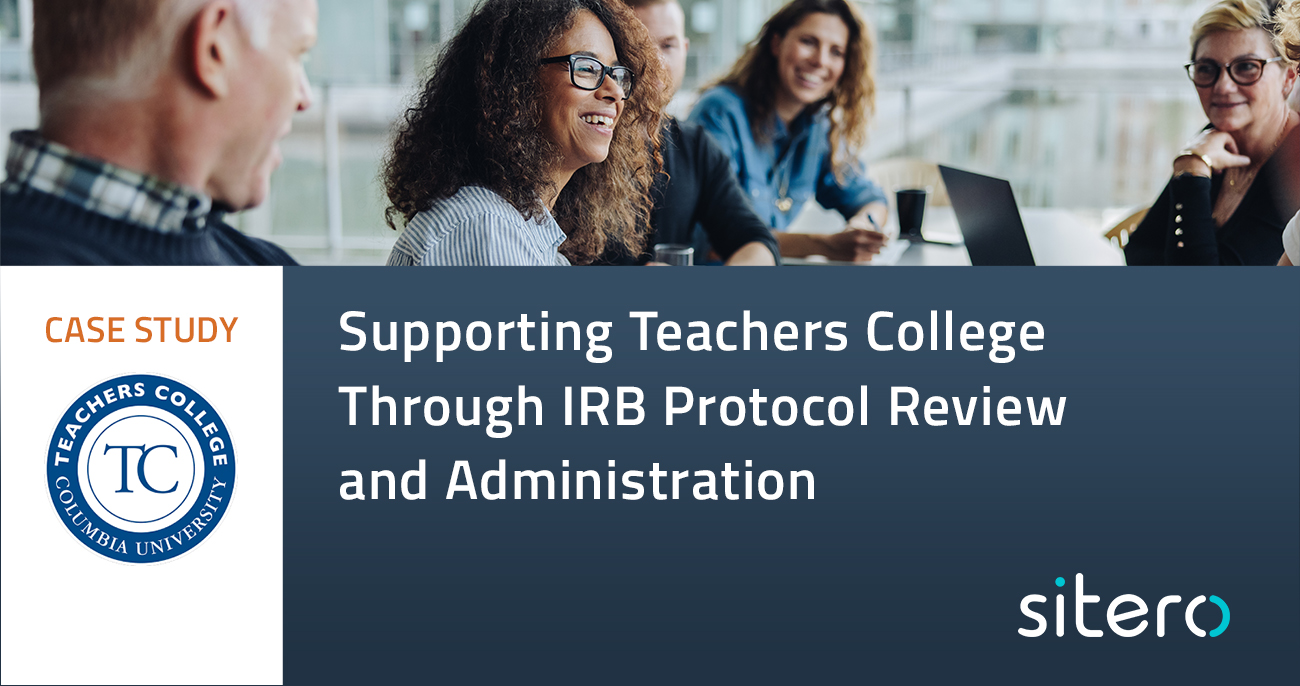 Case Study: Supporting Teachers College Through IRB Protocol Review and Administration
Background & Challenges
The primary challenge facing human research protection programs is limited staffing. Institutional Review Board (IRB) administrators may seek external support for protocol management to overcome this issue. Sitero's IRB Services offers flexible resources for protocol review and administration, reducing administrative burdens, and streamlining the review process.
Sitero's IRB Approach
Teachers College (TC) partnered with Sitero's IRB Services to manage some of their IRB protocol review and administration processes. In collaboration with TC research compliance specialists, Sitero IRB administrators sought to understand the specific institutional policies and develop a customized approach to their IRB process.
Reviewing IRB protocols included providing detailed feedback to researchers in a centralized location to support an efficient and organized process. Using Sitero's Mentor software allowed Sitero IRB administrators to streamline research proposal reviews and ensure regulatory and ethical standards. During the IRB review process, Sitero built strong relationships with TC research compliance specialists by fostering trust and partnership through transparent and efficient communication. This collaborative approach and client ownership led to effective review processes.
With the support of TC research compliance specialists, Sitero IRB administrators engaged with researchers to address requested revisions, respond to inquiries, and review submitted protocols following federal, state, city, and institutional regulations and policies for human subject research.
Sitero's Commitment to Professionalism
TC research compliance specialists maintained balanced work schedules and protocol queues, knowing that Sitero IRB administrators engaged professionally and efficiently. All reviewed research studies aligned with human subjects regulations and ethical standards.
Contact Sitero's IRB Services to learn more and explore how the services successfully provided to Teachers College can also support your administrative needs, including protocol review, Sitero's Mentor IRB system management, or regulatory and ethical expertise.